The state says it's well on its way toward implementing an electronic system where patients, doctors, hospitals and other healthcare providers across Georgia can access medical records.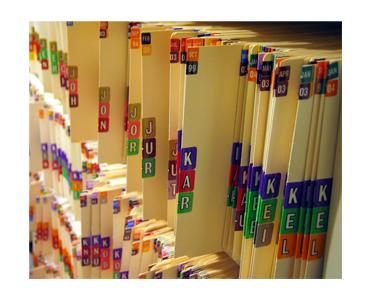 Photo Credit Courtesy: Cal State University at Chico
As more healthcare providers transition to electronic medical records, stacks of alphabetized folders will likely go away. GeorgiaDirect allows a secure way for providers to exchange patient records.
The goal is to improve efficiency and deliver better patient care.
The first phase is called GeorgiaDirect, and it's a offered through the Georgia Health Information Network. Now that it's up and running, it promises to make sharing medical data easier.
Often times, when your doctor creates a medical record, it's of the paper variety. So when you have to visit a lab or a specialist, for example, that information has to make it from point A to point B.
"Today, a lot of that happens over the phone, through unsecure Email, through fax," or it doesn't happen at all, says Kelly Gonzalez. She's the Health IT Coordinator for Georgia.  Gonzalez says the new GeorgiaDirect system gives medical providers a central, secure way to Email patient information.
About 2,100 healthcare providers across Georgia are on the system.
One is Emanuel Medical Center, a 42-bed hospital in Swainsboro.
"Right now we've used it to eliminate a lot of faxing" and other means of sending records from place-to-place, says David Flanders, Emanuel's Chief Information Officer. "GeorgiaDirect provides that platform for us."
A federal stimulus grant funds the program, so it's free to providers.
GeorgiaDirect is the first phase in a broader effort to create a statewide health information network.
Medicity is the company behind the network. Based in Salt Lake City, Medicity also has a large office in Alpharetta.  And its business is booming.
"We really have seen quite an increase in the demand for the kinds of things we do, really over the last four or five years, as standards for moving data around have improved and the adoption of electronic systems inside primarily physicians offices have increased," says Rebecca Little, a senior VP with Medicity.
Little expects the trend to continue as parts of the federal Affordable Care Act take effect.
Meanwhlie, Phase II of the state's Health Information Network is scheduled to come online later this year.  That phase will link various medical record systems into a central portal, and allow providers to much more than send and receive secure Email.
Listen to full broadcast:
http://www.wabe.org/post/medical-records-meet-21st-century-georgiadirect
This story is part of a partnership between WABE, NPR and Kaiser Health News. It originally appeared on WABE 90.1.